The Royal Mint today revealed the winning design that will be used as the fifth portrait of Queen Elizabeth II for all UK coins.
The design is by Jody Clark, a member of the Royal Mint's design & engraving team.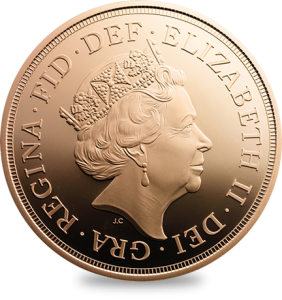 The winning design was selected from a closed ballot of entries in a competition organised by the Royal Mint Advisory Committee. A number of designers from around the UK were invited to submit their designs anonymously. The designs were judged on their merits & suitability and the chosen design sent for approval to the Chancellor and finally the Queen for approval.
The fifth portrait design of Queen Elizabeth II was unveiled in at a ceremony, held at the National Portrait Gallery in London. It supersedes the Ian Rank-Broadley portrait, introduced in 1998.
The 2015 gold Sovereign is the first UK coin available to the public that will feature the fifth portrait of Queen Elizabeth II. Initially available in proof form only, a maximum mintage of just 9,000 pieces will be produced; 7,500 as individual coins and 1,500 to be included in sets.
It is the first time since 1893 and only the third time overall that the gold sovereign has featured two different bust designs in the same year.
Previous double portrait years were
External links:
Comments