Raphael Maklouf designed the image of Queen Elizabeth II that replaced Arnold Machin's portrait, which had been used on UK currency since 1968. Maklouf's design was chosen from 38 submissions entered by 17 artists for a 1982 competition staged by the Royal Mint Advisory Committee. Maklouf initially followed Machin in working from a photograph taken by Lord Snowdon, but was subsequently granted two sittings with the Queen at Buckingham Palace, to create the clay bust from which the coins were modelled. Maklouf said he found Her Majesty "absolutely friendly, making jokes all the time."
From the UK to Australia
Maklouf's Queen Elizabeth portrait was his first design for a coin. It appeared on UK coins in 1985, including the 22ct Gold Sovereign and the Half Sovereign, and was used until 1998. The image was also adopted by Australia for its coinage, and continues to be used on coins minted for Gibraltar by Maklouf's own company, Tower Mint Ltd. It was Maklouf's version of the Queen that appeared on the UK's first bicolour (silver and gold colour) £2 coins from 1997. Generating great interest when they were introduced, the bicolour coins were quite sought after and, so some believed, rare and valuable. However appealing they are, these coins are not rare; 13 million of them were minted.
Looking young for her age
As sculpted by Raphael Maklouf, the image of the Queen is couped – cut off at the neck. Like his predecessor Arnold Machin, Maklouf gave the Queen a relatively youthful look – too young, according to some critics. Maklouf countered this by saying he did not set out to be unduly flattering, but "to create a symbol, regal and ageless."
Personally identified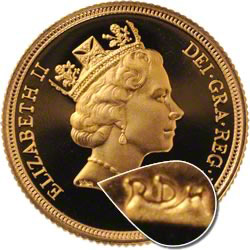 Use a magnifying glass and you'll see that Maklouf has included his initials R.D.M. (for Raphael David Maklouf) at the base of the Queen's neck. The D for David was important; without it, Maklouf thought, the initials R.M. could be misconstrued to mean Royal Mint. Also like Machin, Maklouf eschewed using a crown in the portrait and instead showed the Queen with the royal diadem that she wears for the State Opening of Parliament.
A troubled start
Ironically, Maklouf became a sculptor because of eyesight problems. As a boy, he suffered from an eye disease that made reading and writing difficult. While in hospital he started to express his artistic talent through sculpture – a medium which also allowed his fingers to influence the final form. Born in Jerusalem in 1937, Maklouf emigrated to Britain with his parents after World War II, studying at the Camberwell School of Arts before becoming a lecturer. He was made a Fellow of the Royal Society of Arts and an Associate of the Royal Society of British Sculptors.
Comments